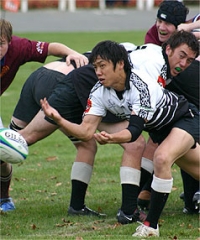 Over the years South Canterbury rugby has been the home to the league of nations with players from all over the globe.
However, Temuka has landed a first with Japanese halfback Ken Otomo.
Otomo, 22, came to New Zealand to improve his English but has also found himself in action as the Magpies senior halfback, and he's loving it.
Otomo was introduced to rugby at the University of Sangyo in Osaka while studying sports management.
A friend became aware he was a rugby player and took him out to Temuka and he has been a regular starter for the team.
Otomo said he was really enjoying playing rugby in New Zealand and had learned a lot.
"Temuka is a very good club and lots of fun."
The one big difference was he was not used to playing on grass, having learnt his skills on an artificial surface.
Otomo is also enjoying the change of cultures especially the Kiwi food, but sometimes hankers just for a taste of home.
Temuka coach Regan Joyce said he has proved to be a great asset to the team.
"Ken's got a beautiful pass both ways and certainly digs in to get the ball. He's exactly what we've been looking for over the past couple of seasons."
The coach said he was getting better every game.
Joyce said Otomo had fitted in well. "Ken seems to enjoy the rugby and the environment, he seems to like a few beers after a game with the boys."