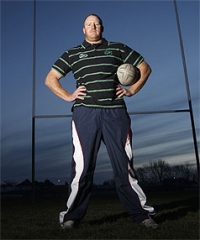 The South Canterbury rugby team's new captain Tristram Johnston will be taking a low key approach to leadership responsibilities.
Delighted to be appointed, the midfield back, 27, played for Temuka this season, after three years overseas.
In London he played rugby for Wasps, but at a more development level, so he could travel freely without disrupting a team.
Back into the serious stuff, he's looking forward to leading the side, having been capped eight times previously. "It should be really good, there's plenty of good blokes and they all seem keen," he said.
He will also get to meet the three new loan players this weekend at a Heartland training camp.
Johnston said it was also excellent that the side would play three warm-up games, before the Heartland competition kicked off.
The first is against New Zealand Army in Timaru on August 15.
Tipping the scales at 100kg, Johnston is certain to have a big presence on the field.
Vice-captain of Temuka, his trademark is busting the midfield, and he is also strong runner and defender.
Johnston is the side's third skipper in three year, after Luke Reihana and Tony Ward.