Heres an artical written by the rugby news for there club of the week it really shows the pride and the history of the club and the great players and teams we have had please have a read i know you will enjoy it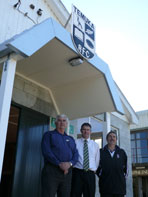 GOOD VIBRATIONS
Having done a fair few of the ever-popular Toyota Club of the Week profiles for Rugby News over the past four and a half years, I'd like to think I've developed an ability to get a decent feel for a club within minutes of walking through its doors. Sometimes it's glaringly obvious; other times you are pleasantly surprised, or surprisingly disappointed, by the time you switch off the dictaphone and pack up the camera.
At the Temuka RFC, I felt a deep sense of satisfaction by the time I'd shaken hands with my hosts, life member Joe Laney, president Steve Fisher and vice-president Ken Darby, and pulled up a pew at the Keith Surridge Memorial Hall.
For the uninitiated (among whom I classed myself before my recent visit), Temuka is the oldest and most successful rugby club in South Canterbury. The Magpies, as they're affectionately known, have won a staggering 39 senior club titles There have been four All Blacks – Gus Spillane (1913), Archie Strang (1930), Lachie Grant (1947, '49, '51) and Tom Coughlan (1958) – from the club, a scattering of New Zealand Maori, NZ Divisional, South Island and Hanan Shield District players, and more South Canterbury representatives than you can shake a stick at. In fact, they tell me South Canterbury played a couple of games at the 1994 national sevens tournament with a team comprised solely of Temuka players and it more than held its own against some big hitters. After glancing at a few of the photos, plaques and banners at the immaculately kept clubrooms, I have no reason not to believe anything I'm told. Temuka's rich history of success is literally dripping off the walls.
"Temuka's a rugby club that's always taken an intense pride in its success," says Laney, "and success has always bred success."
Banners have been harder to come by in recent years, though, with the club's last title snared in 2001. But with former player Anthony Etti now in charge of the senior side, there is a feeling that the next golden era in Temuka rugby mightn't be too far away.
"It certainly helps having someone like Ants around in terms of respect and knowing about those old ethics," says Fisher.

The strength of Temuka rugby in the 1960s is exemplified by the fact that future All Blacks hooker Tane Norton struggled to command a place in the starting XV during his time at the club. (Norton arrived in Temuka on a transfer with the BNZ bank from Kaikoura in 1964). He eventually left the area in 1968 and three years later made his test debut out of the Linwood club in Christchurch.
However, Norton clearly left a piece of his heart in Temuka – an impressive glass case with 15 jerseys (one All Blacks top and 14 others he swapped with international opponents during his 27-test career) takes pride of place on one of the clubroom walls.
Having kicked off in 1875, Temuka ranks as one of the oldest clubs in New Zealand – an incredible fact given the town's then sparse population and its distance from the emerging cities of the time. There is a newspaper report about rugby being played by a Temuka team as far back as 1867, though it was probably a mix of Victorian and Association rules. The club itself wasn't established for another eight years.
Early games were played locally until the rail link opened in 1876. Temuka proposed the formation of the Canterbury Rugby Union in 1879 and the South Canterbury Rugby Union in 1888. In 1877, such was the strength of rugby in the area, Temuka and Auckland came closest to beating a formidable Dunedin side which had set sail on a nationwide tour, with Temuka losing 0-2 and the Auks drawing nil-all. Records show that crowds of 600-800 regularly turned out to watch the local side before the turn of that century.
"The history of this club makes you proud of what's gone before you," says Darby.
"That's why we do what we do. We realised that it was a privilege to play for Temuka, and we're giving back for what people have done for us over the years."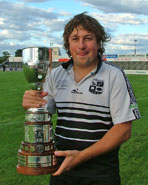 A significant factor in Temuka's success – aside from outstanding leadership at committee level and the staunch efforts of coaches, administrators and supporters – has been the strength of the family connections. Check through the records and you will see the appearance of four and five generations (and counting) of the same families with names famous in the district, including the Grants, Horgans, Scotts, Spillanes, Coughlans and the Tarrants, to name a few. The club has also provided five of the 11 players who have played 100 games or more for South Canterbury, including the union's record appearance holder, Stephen Todd (152 games between 1986-2001). Todd is also the leading tryscorer in South Canterbury history with 60.
Former Otago, Highlanders and Scotland utility back Brendan Laney also started out playing senior rugby for Temuka before being lured to Dunedin's bright lights.
Another Temuka legend worth mentioning is former president John Hayhurst (1886 and 1888-95), who presided over the New Zealand Rugby Union in 1902.
There is simply not enough room on these pages, or indeed this entire magazine, to cover off all of Temuka's championship successes in detail, but it is safe to say that, with the exception of Auckland and Otago heavyweights Ponsonby and University, it has few peers throughout the country in terms of overall success.
GREATEST MOMENT
With 39 South Canterbury titles in the bag, it's impossible to pinpoint one moment in Temuka's 135-year history that stands out more than all the others.
However, the 1956 seniors broke all sorts of records with a side widely regarded as the best ever fielded by Temuka.
Under the astute leadership of coach Peter Gale, Temuka achieved the record of not only winning the Skinner Cup, but also maintaining an unbeaten record for the season with 15 wins and two draws. This gave the side, which included Frank, Tom and Mick Coughlan, the Skinner, Beri, Harris, Collogan and Jack Dunn Cups – every trophy available in South Canterbury rugby.
It's worth noting, too, that seven of Temuka's titles were claimed between 1901 and 1910; five championships came in 1964-68; and in the mid 1970s to mid 1980s the seniors won 10 times in an 11-year period.
CLUB LEGEND

KEITH SURRIDGE
The late Keith Surridge still smiles down on all of his old mates at the Temuka RFC.
It is fitting that the affable former club captain (two terms, including a 16-year stretch from 1963-78), president and life member is remembered in the sporting community he lived for, with the complex now known as the Keith Surridge Memorial Hall.
Although he never played the game, Surridge always loved rugby and in the 1960s he started a long association with Temuka, serving a total of 28 years on the executive. He is remembered as a tireless servant who took a 'She's right, I'll fix it' attitude to everything.
"Keith, in his time, was the mainstay of the club. He was a jack of all trades – even if he wasn't supposed to be. His forté was people. He was a thorough gentleman and a fanatic as far as Temuka rugby was concerned. It was a mark of respect that the club changed the name of the hall to his after his death," says Laney.
ALL BLACKS (4)
Gus Spillane 1913
Archie Strang 1930
Lachie Grant 1947, '49, '51
Tom Coughlan 1958