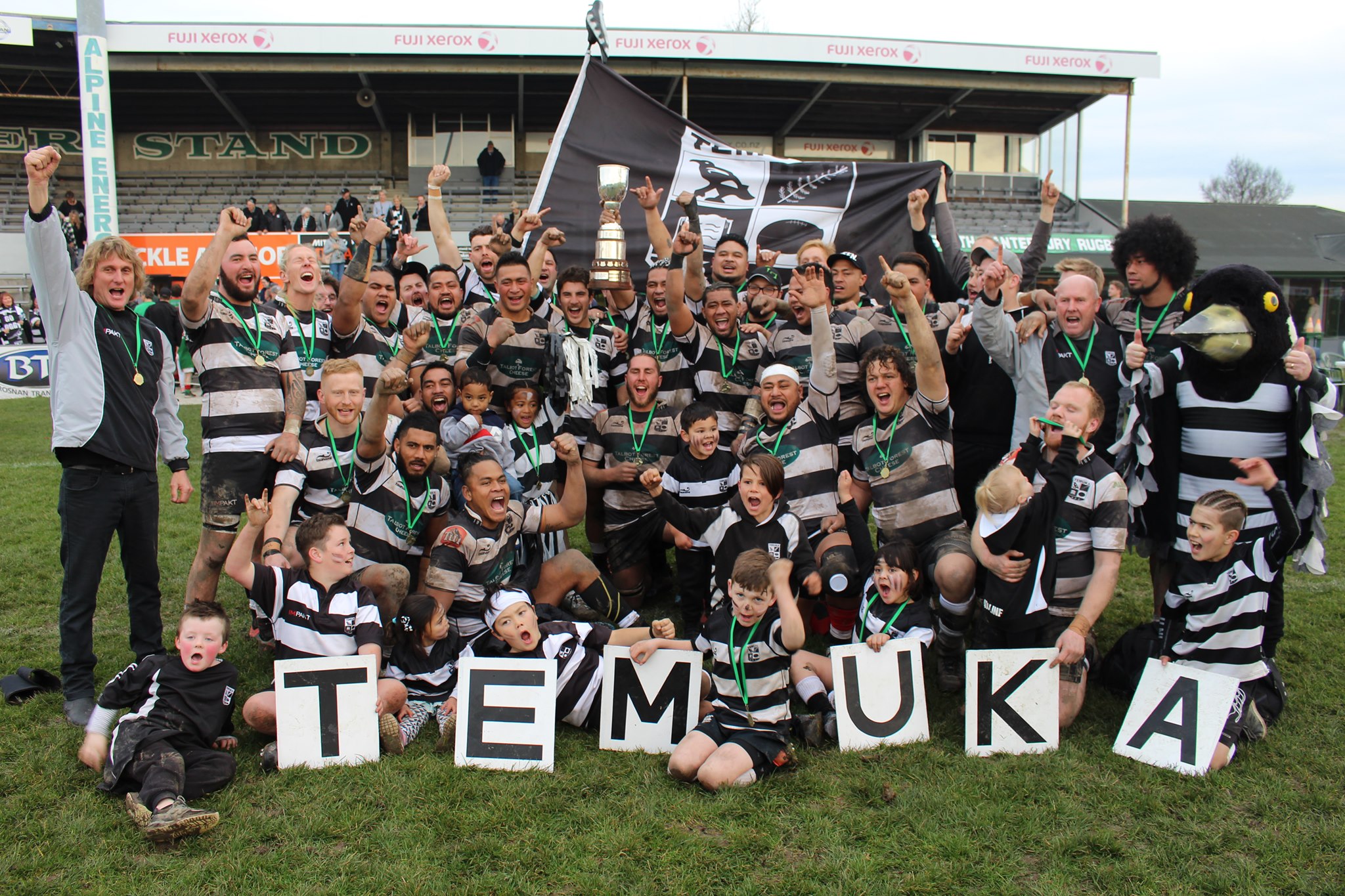 The Temuka Magpies beat Celtic 41-10 to win the Hamersley Cup and the South Canterbury senior rugby title for the first time in 18 years.
A clinical first half display sealed Temuka's first South Canterbury senior club rugby championship since 2001.
Saturday's 41-10 result ended Celtic's run of 10 successive titles, a modern day New Zealand club rugby record.
Magpies co-captains Keith Darby and Paula Fonokalafi lifted the Hamersley Cup after soundly beating Celtic at Alpine Energy Stadium in Timaru in a victory that was built around a dominant first 40 minutes in which the favourites led 27-0 at the break.
Temuka were superb, starving Celtic of the ball and giving it plenty of air when they had it.
First five-eighth Faalele Iosua was outstanding for the new champions as the little general directed play brilliantly and wasn't frightened to take the ball to the line himself.
Temuka roared into life, stunning Celtic from the kick off, spreading the ball to score a try through lock Solomone Lavaka after just two minutes with Iosua adding the conversion.
Temuka then blew a golden opportunity to double their lead four minutes later when Darby took on the last defender with man unmarked outside. Fortunately they did get some reward shortly afterwards with an Iosua penalty and a 10-0 lead.
Celtic then attacked, turning down three shots at goal in favour of two lineouts and scrum, but could not break Temuka's aggressive defence.
Midway through the half Iosua landed a sideline penalty for a 13-0 lead and with Celtic under the pump, the Magpies crushed the champions hopes when they added two excellent tries before halftime for a matchwinning lead.
The first they switched the attack and right wing David Hall stepped two defenders to score in the corner and the accurate Iosua landed the sideline conversion. Prop Pangi Iketau then made a great midfield break and Lavaka was on hand for his second try to stun Celtic.
The second half did not start well for Temuka as they lost busy hooker Juniaah Faavae to a knee injury and then left wing Kalavini Laetigaga was sinbinned for 10 minutes for not wearing his mouthguard.
Celtic pounced with right wing Walker Setu scoring in the corner to revive faint hopes.
Temuka however regained the ascendancy soon after when replacement halfback Tenari Saumani ran and found space to put centre Ricki Neame into a gap to score under the posts, with Iosua adding the extras.
A rare Celtic drive to the line in the 61st minute resulted in captain Nick Strachan diving over out wide to score for a 34-10 scoreline but Temuka again replied when Neame took a quick lineout throw in his own half. Leatigaga got the ball and ran around two Celtic forwards on the opposite side of the field to score a great individual try. The effervescent Iosua converted from wide out for 41-10. Iosua's only miss of the match was when he drop goal attempt astray late in the match.
Besides Iosua, centre Pita Siale also stood out with several strong runs and was part of an unbreakable midfield defence with Neame. Fullback Liueli Simote also had his moments as part of a dangerous back three.
The Magpies pack played together brilliantly and there were plenty of heroes. No.8 Philip Fuls put in a powerful performance with some bullocking runs and big defence. Lavaka was another big contributor while prop Aifala Taelega also stood out.
Temuka coaches Brendan Millar and Brendan Aitken deserve praise for allowing their side to play their natural game rather than reverting to finals football.
Temuka lost only one game all season and were deserved champions.
Celtic tried hard to play their game but were starved of ball and simply outplayed, out wide. Two of their veterans, Strachan and prop Matt Fetu, toiled away along with No.8 Tom Fleming but it was just not their day.
In the senior B final Celtic upset Temuka 20-19 in an entertaining encounter.